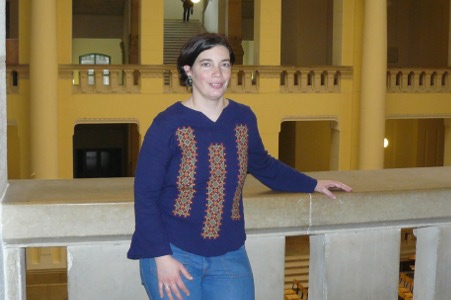 Beosztás:
Szervezeti egység:
Telefonszám:
+36 1 463 4343
E-mail:
laky.piroska@emk.bme.hu
Konzultációs időpont:
Szerda 10-12
Életrajz:
Tudományos fokozat
PhD Földtudományok (2008)
Végzettség
Okl. földmérő és térinformatikai mérnök (2003)
Ösztöndíjak
Dr Korányi Imre Ösztöndíj (10 hónap), kutatói ösztöndíj, The Ohio State University, Center for Mapping, Columbus, USA (2009-2010)
Magyar Állami Eötvös Ösztöndíj (3 hónap), kutatói ösztöndíj, University of Stuttgart, Institute of Geodesy, Németország (2006-2007)
Leonardo da Vinci Ösztöndíj (3 hónap), szakmai gyakorlat, Yaru S. L., Soria, Spanyolország (2005)
Socrates-Erasmus Ösztöndíj (5 hónap), féléváthallgatás, Universidad Politécnica de Valencia, Spanyolország (2001)
Közéleti tevékenység
Tagságok
Magyar Földmérési, Térképészeti és Távérzékelési Társaság - MFTTT (2009-)
MTA Geomatematikai Albizottság (2009-2010)
American Society for Photogrammetry and Remote Sensing - ASPRS (2010)
Díjak
Award for the best paper in the special Session for young specialist and students, International Symposium on Modern technologies, education and professional practice in geodesy and related fields, Sofia, Bulgária, 2004
Országos TDK konferencia I. díj (2003)
Kari TDK konferencia I. díj, BME, Építőmérnöki Kar (2001, 2002, 2003)
Temesvári TDK konferencia I. díj, Temesvári Magyar Diákszervezet és Országos Magyar Diákszövetség, Temesvári Műszaki Egyetem (2003)
Pro Progressio különdíj (TDK) (2002)
Milleniumi TDK, Dícséret (2000)
Kari TDK konferencia III. díj, BME, Építőmérnöki Kar (1998)
Köztársasági Ösztöndíj (1999, 2000, 2002)
Nyelvtudás
angol középfok
spanyol felsőfok
Érvényesség: 2017.03.01.