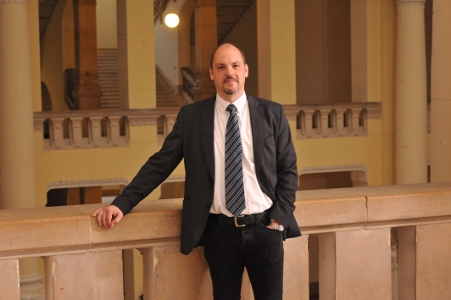 Beosztás:
Szervezeti egység:
Telefonszám:
+36 1 463 3213
E-mail:
rozsa.szabolcs@emk.bme.hu
Szoba:
K. ép / mf. 26/12.
Kutatási terület:
Globális helymeghatározó rendszerek és geodéziai alkalmazásaik
Kapcsolódó projektek
INTRO: Integrity of Troposphere Models (European Space Agency, ESA, koordinátor)
TROPSY: Assessment techniques of tropospheric effects for local augmentation systems (European Space Agency, ESA, témavezető)
GALILEA: Galileo Local Element Augmentation System (Galileo Joint Undertaking, European GNSS Agency, résztvevő)
Environmental Tectonics (EU FP5 Programme, résztvevő)
Kapcsolódó fontosabb publikációk
Rózsa Sz (2014) Modelling Tropospheric Delays Using the Global Surface Meteorological Parameter Model: GPT2, PERIODICA POLYTECHNICA-CIVIL ENGINEERING 58:(4) pp. 301-308.
Falzini S, Minopoli M, Caporali A, Morini C, Pepi T, Ádám J, Rózsa Sz (2008) GALILEA: GALIleo Local Element Augmentation for SISE Prediction and Iono/Tropo Corrections, ATTI ACCADEMIA NAZIONALE DI SCIENZE LETTERE ED ARTI MODENA 187:(1) pp. 41-54.
Rózsa Sz, Heck B, Mayer M, Seitz K, Westerhaus M, Zippelt K (2005) Determination of displacements in the upper Rhine graben Area from GPS and leveling data, INTERNATIONAL JOURNAL OF EARTH SCIENCES 94:(4) pp. 538-549. (2005)
Rózsa Sz, Mayer M, Westerhaus M, Seitz K, Heck B (2005) Towards the determination of displacements in the Upper Rhine Graben area using GPS measurements and precise antenna modelling, QUATERNARY SCIENCE REVIEWS 24:(3-4 SPEC. ISS.) pp. 427-440. 
Rózsa Sz (2005) Abszolút antennakalibrálási adatok felhasználása geodinamikai hálózatokban, GEOMATIKAI KÖZLEMÉNYEK VIII: pp. 115-122.
GNSS meteorológia
Kapcsolódó projektek
COST ES1206: Advanced Global Navigation Satellite Systems tropospheric products for monitoring severe weather events and climate (GNSS4SWEC)
OTKA 83909: A levegő integrált vízgőztartalmának meghatározása GNSS mérésekből (szenior kutató)
Kapcsolódó fontosabb publikációk
Horváth T, Viengdavanh R, Rózsa Sz (2014) Négydimenziós vízgőzmodellek előállítása GNSS tomográfiával, GEOMATIKAI KÖZLEMÉNYEK XVII:(1) pp. 69-78.
Rozsa Sz. (2014) Uncertainty Considerations for the Comparison of Water Vapour Derived from Radiosondes and GNSS INTERNATIONAL ASSOCIATION OF GEODESY SYMPOSIA 139: pp. 65-78.
GNSS reflektometria
Fizikai geodézia / geoidmeghatározás
Életrajz:
Tudományos fokozat
MTA Doktora (2023)
habilitáció Földtudományok (BME, 2015)
PhD Földtudományok (BME, 2003)
Végzettség:
Master of Business Administration (Budapesti Műszaki-, és Gazdaságtudományi Egyetem, 2004),
Okleveles földmérő- és térinformatikai mérnök (Budapesti Műszaki Egyetem, 1998)
Fontosabb projektek
Közéleti tevékenység
Tagságok
MTA Geodéziai és Geoinformatikai Tudományos Bizottság tagja (2011-)
IAG WG4.3.3 Integration of GNSS Atmosphere Models with NWP Models, tag (2011-2015)
AGU tag (2010-)
Magyar Mérnöki Kamara tag (2008-)
MFTTT tag (2005-)
MTA Köztestületi tag (2005-)
IAG (Nemzetközi Geodéziai Szövetség) tag (2003-)
Funkciók:
Szerkesztőbizottsági tagságok
Díjak
TDK Munkáért, BME (2015)
Szádeczky-Kardoss Elemér díj (2012)
IAG Fellow (2007)
Pro Scientia Aranyérem (1999)
Szádeczky-Kardoss Elemér díj (1999)
Érvényesség: 2017.03.01.